How to Produce Polyester Sheets
Polyester sheets are new type of echo reduction sound absorption sheets. More and more designers, engineers and project owners choose our polyester sheets to reduce noise and protect the human hearing. They are widely as ceiling and wall sheets for interiors used in offices, colleges panel sheets for walls, office buildings, airport, church noise reduction, home furnishings, pitched floors, schools & universities, etc.
Our polyester sheets are made of 100% polyester fiber and are bonded using heat rather than conventional chemical adhesives. Since polyester is naturally resistant to moisture, pests, insects, molds and bacteria, so does polyester fiber sheet.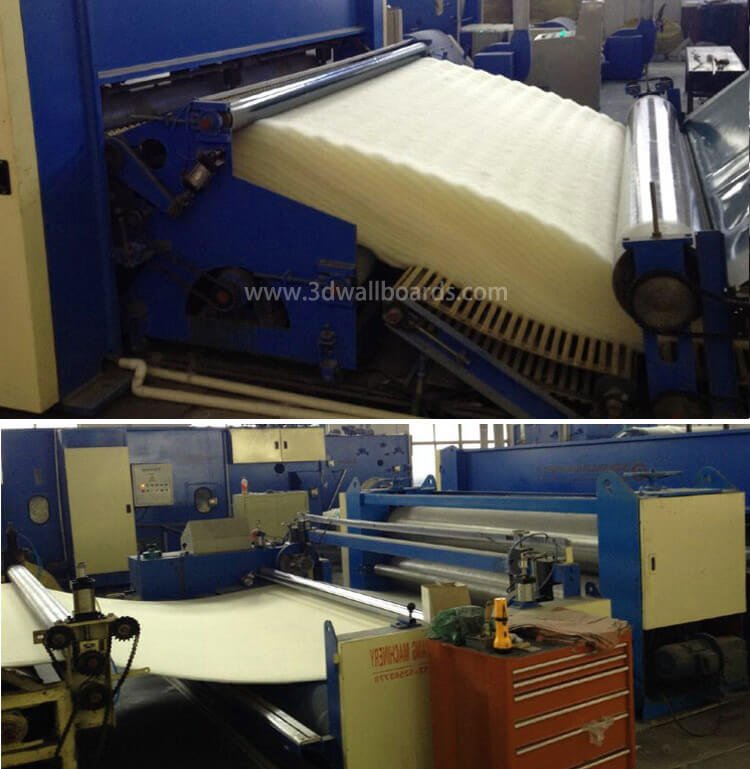 The following is our sound absorption polyester sheets for wall decoration manufacturing process.
Mixing
The feeding machine will mix LMF (low melt fiber) and posted industrial fibers in appropriate proportions.
Homogenizing
Large trunk machine will homogenize all kinds of polyester fibers evenly.
Hackling
The carding machine will hackle the material to be loose and sparse fiber layer.
Stacking
The bamboo raft will stack 300-400 layers of sparse fibers into the preforming press.
Punching
The needle machine can press the thick layer of sparse fiber into a high density board with adjustable speed and thickness.
Heating
The heating machine is partially enclosed, directly heated surface from which warm air circulates by convection. It will melt the LMF so that they all bounding together.
Pressing
Multiple rollers will press the polyester board at the desired thickness.
Cooling
The water cooling system will fix the polyester fiber sheet for wall or ceiling thickness and shape.
Cutting
The automatic cutting machine will cut the setting size.
Ripening
Within the next 48 hours, the polyester sheets stays in a stabilization process.