Sound Absorbing Wall Panels
Sound absorbing wall panels are often used in large rooms projects to reduce echo. Our sound absorbing acoustic panels are made of 100% polyester fiber, and were developed to replace glass wool, rock wool, and polyurethane foam. These sound absorbing panels can be recycled and often used in classrooms, airports, restaurants, home theatres, apartment buildings, conference room, laboratories, radio room, stadiums, and so on.
In particular, our sound absorbing wall panels are a very good environmentally friendly product using 100% pure polyester. It is non-toxic, easy to recycle, semi-permanent and high durability. The standard size is 2440x1220mm, we can also cut it into 600x600mm which become sound absorbing wall tiles.
About Product
Polyester sound absorbers for walls are more cost-effective than any other material, providing a choice for all budgets. They provide excellent absorption and insulation on the ceiling and walls. The sound absorbing wall panel is made of 100% polyester fiber and is bonded by heat rather than conventional chemical adhesives. Polyester board is naturally resistant to moisture, pests, insects, molds and bacterias.
Another significant contribution of sound absorbing wall panels is the increased thermal efficiency of the building, which greatly contributes to reduced energy consumption.
By adding absorbent material to the interior of the office, we can control the sound quality inside the building. We need to consider the function of each office and then work out the appropriate solution to control the different frequencies and pressures level of the most likely sound in that space.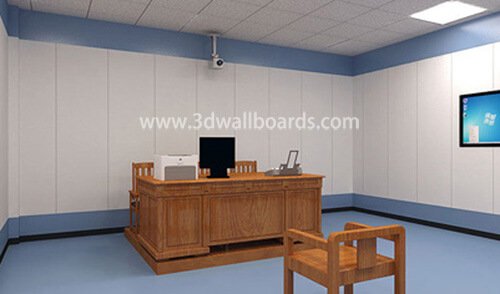 About Us
We continue to develop and discover other uses of "natural" fibers sound absorber panels with unparalleled performance and unrealized potential. By manufacturing environmentally friendly insulating sound absorbing wall panels, we are paving the way for consumers and the construction industry to make a significant contribution to noise control.
Company Profile
We are an environmentally friendly company, producing 100% pure polyester insulation wool, noise absorbing panels, and so on. We will make every effort to produce high quality polyester sound absorbing wall panels to meet the needs of customers.