Sound Absorption Wall Panels
Sound absorption wall panels can be used for cafes, restaurants, bars, school classrooms, gymnasiums, halls, home and professional studios and offices. Provides first-class sound control and cool appearance at an unbeatable price. Discover the unlimited design flexibility of decorative sound-absorbing polyester panels made by china sound absorbing wall panels manufacturers. It is lightweight, semi-rigid and stylish. Therefore, it is very suitable for wall panels in cafes, bars, restaurants, schools, offices, studios and home theaters, especially ceilings. This is our most popular acoustic PET board for schools and cafes. The thickness makes them very suitable for absorbing sound (male and female) and music. This is also the default ceiling and wall panels for all our studios.
These panels have the following advantages:
-Absorb louder sound at lower mid frequencies.
-Stronger, so it is more suitable for hanging from the ceiling when needed.
-The appearance is improved, and the appearance is more crisp.
The acoustic polyester panels made by china sound absorbing wall panels factory are lightweight, non-irritating, environmentally friendly, washable, and fade resistant. Cut easily with a sharp bread knife. Due to their very light weight and semi-rigid design, they are the only sound panels china products that can be easily fixed to or suspended from walls and ceilings without sagging or deforming.
Sound Absorption Wall Panels Description
Dimensions – Both ceiling and wall panels have square edges.
Color – black or white, as shown above.
Fire rating – not flammable sound panels for walls china
Size – 1200x2420mm
Core Material – 100% polyester
Thickness – 9mm, 12mm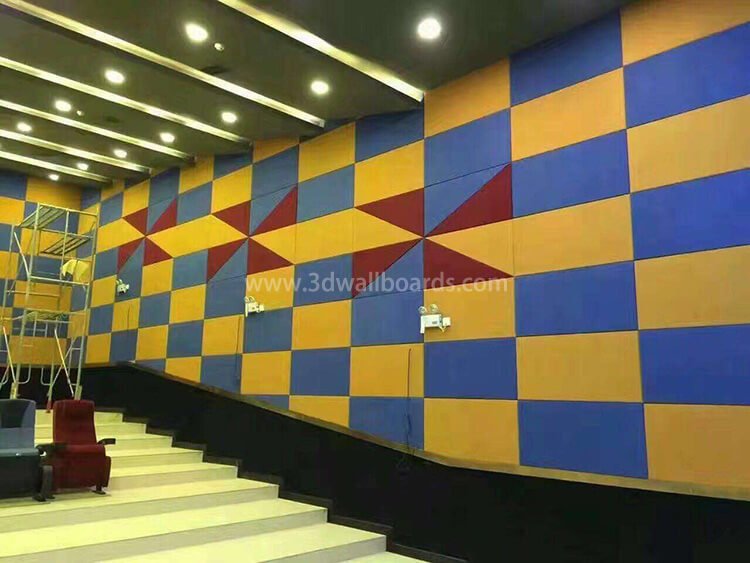 Fixed – may be glued or hung/suspended. All packages contain complete instructions, guidelines and options for fixing and placement. For any convenient person or builder, installation of acoustic PET boards is easy and quick.
Testing report
EN13501-12007 Class B
ASTM E84 Class A
ASTM E84 Class C
BS 476 Part 7 Class 1Y Fire Protection
BS EN 717-1 E0 formaldehyde-free environmental test
NRC EN 13964; 2004 + A1: 2006 acoustic test
EN 12667-2001 thermal conductivity and thermal resistance
NRC EN ISO 354-2003
Application
School classrooms, cafes and commercial-(using 50mm thick suspended or directly pasted ceilings) – approximately 36% of the total ceiling area of ​​most school classrooms and commercial applications (including restaurants, sound absorption wall panel for cafes, bars, offices and meeting rooms). Sound absorption wall panels by polyester acoustic panel suppliers are also suitable for restaurants, bars, fitness centers, offices and studios.