Polyester Fiber Acoustic Cotton
Polyester fiber acoustic cotton china is made of polyester fiber and recycled PET by polyester fiber acoustic cotton manufacturers. Polyester fiber acoustic cotton gives you better sound absorption performance. These panels are environmentally friendly and are designed to work best with the walls, thereby reducing labor and materials. Compared with traditional glass fiber sound-absorbing panels, ecological acoustic polyester fibre rolls are lighter and easier to operate and install. It is highly recommended by architects and interior designers, because even if these polyester fibre insulation panels are refurbished to solve acoustic problems, it can retain the original room design.
Polyester fiber sound insulation board can be used not only as a traditional internal acoustic insulation polyester board, but also as a basic material for creative solutions, in which design and beauty are essential. The polyester fiber sound insulation board is made of 100% polyester fiber. It's one of the most popular China acoustic panels. Polyester fiber acoustic cotton board contains at least 60% recycled materials after consumption (PET bottle flakes), which is completely safe, non-toxic, non-allergic and non-irritating.
Polyester Fiber Acoustic Cotton Product Details
Product Type:  100% polyester fibre insulation board
Material: 100% polyester fiber. Contain at least 60% recyclable materials
Surface type: smooth, can be stored for five years
Technology: Does not contain any Red List chemicals
Features: safe, non-toxic, non-irritating and non-allergenic
Density: 10 kg/m3- 80 kg/m3
Color: 32 colors
Size: 2400x1200mm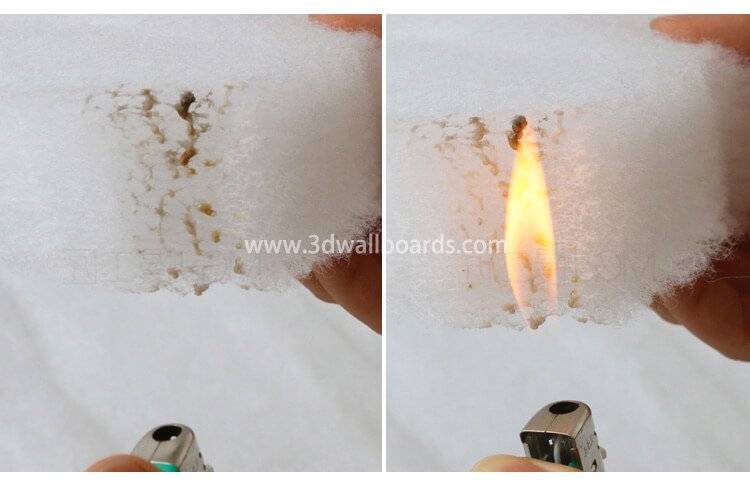 Environmental factor
We are committed to achieving best practices through ISO 9001 and ISO 14001 certified quality and environmental management systems. The acoustic insulation polyester board contains at least 70% of previously recycled polyester fiber (from PET bottle flakes), which ensures a low energy content. Leftovers and manufacturing waste can be reused or recycled wherever possible. Uncontaminated polyester fiberboard can be recycled.
Acoustic polyester fibre rolls are made of 100% polyester fiber and do not contain chemical binders such as formaldehyde. As a popular sound insulation material, polyester fiber acoustic cotton can improve indoor air quality and will not become a potential airborne pollutant.