3D Board Panels
3D board panels are panels that absorb sound and are an efficient acoustic solution for sound absorption and noise control in many different types of applications. 3D panel boards provide an ideal sound-absorbing material, which can cut and attenuate the sound in restaurants, offices and more spaces. The 3D panel board we provide is ideal solution for a variety of applications, including offices, conference rooms, home entertainment, home theater music rooms, auditoriums, teleconferences, video conferences, broadcast and recording studios, theaters or any need for quick and easy acoustics place solution. Our 3D wall cladding can be installed quickly and help absorb interference, reduce echo and improve sound clarity.
3D board panel has high noise reduction coefficient, made of 100% recyclable materials by 3D wall board suppliers, light weight, flexible and easy to customize, easy to install and maintain, high moisture resistance, moisture resistance and chemical resistance, does not help fire spread, always safe-none Cause irritation or allergy.
Office waiting rooms with 3D board panels on the walls to reduce unnecessary noise in the indoor environment can help achieve many desired effects. 3D board panel Enhance classroom learning ability and improve office productivity. Voices in group meetings and conferences are clearer, and there is less interference in large open areas.
Specifications
Size: 200x200mm
Material: 100% polyester 3D board wall decoration
Thickness: 3mm, etc.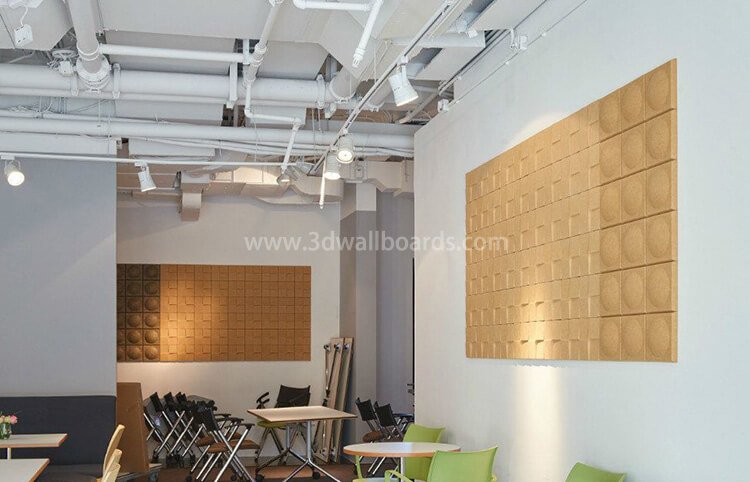 3D walls cladding can perfectly integrate extraordinary value, aesthetics and performance to meet all these goals. In order to be compatible with our complete line of molding systems, our 3D board wall is a solution that provides all the practicality you need, as well as the tailor-made elegance you expect from the leader in commercial wall panel systems.
The perfect choice for value and design
Whether in classrooms, corridors, meeting rooms or public or private spaces, when you use China 3d wall panels as part of an acoustic solution, you will enrich the intrinsic value of each user experience. Maximize the performance and aesthetic quality of the next project:
Variety of decorative strip options
The versatility of modular design brings unparalleled design flexibility
The 3D wall board is 3mm thick and 100% polyester fiber.
Very suitable for learning environment
3D wall panels are easy to install and maintain.
14 color options from soft and neutral to bold and bright
All 3D Board Panels are:
100% recyclable.
High reusable potential.
No chemicals are used in the manufacturing process.
No phenolic resin binder.
Tasteless.
No water is used in the manufacturing process and no waste is generated.
The product does not use ozone-depleting gas, nor does it contain chloride or ammonia.