Polyester Insulation Batts
Alternative to Glass Wool Insulation – Polyester Wool Insulation Batts
Polyester insulation batts, is also known as polyester wool insulation material. They are available in several different density and thickness. In fact, polyester wool is a half finished material for polyester board or our other 3d wall boards. Push polyester wool with the right technology, it become high density board such as 9mm polyester fiber acoustic panel.
What can I get if I install polyester insulation batts?
Proper installation can reduce help reduce noise and echo.
What is your polyester insulation batting, where is it made?
We are one of the leading China polyester insulation suppliers. It's manufactured in China, and made of 100% polyester fibers.
Why is polyester insulation the most healthiest on the market?
There is no known physical or health hazard associated with polyester.
Does not drain fiber like a glass fiber/glass wool insulation.
There are no harmful chemicals, such as adhesives, solvents, volatile organic compounds and formaldehyde.
Will not issue toxic smoke, odorless.
Safer alternative to mineral wool or glass fiber insulation, which contains so many harmful chemicals and carcinogens.
Non-irritating and non-allergic.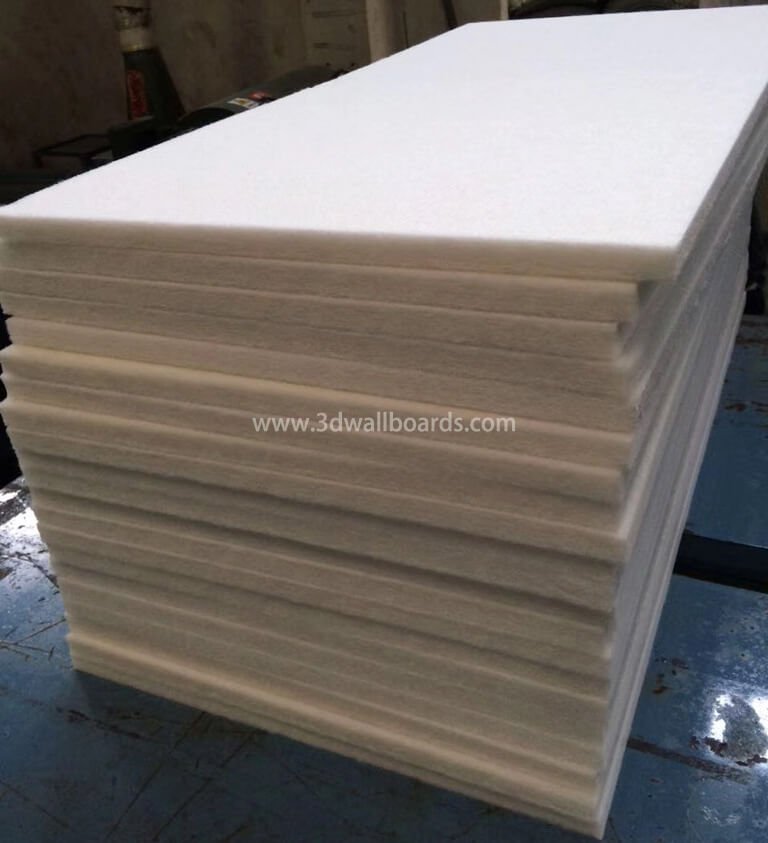 Why is polyester acoustic insulation the most "green" on the market?
100% recyclable to reduce landfill
Applicable to commercial green star project
Consisting of at least 80% recycled polyester fibers.
Without the use of water or ozone to consume gas, there is no waste in the manufacturing process
Why is your insulation so durable and durable?
The thermal bonding method used to make the polyester fiber insulation material ensures that the fibers do not break down as some form of bulk insulator using chemical adhesives.
Therefore, if properly installed, our high quality polyester insulation batts can be expected to last the life of the building.
Made of strong polyester fibers, so it is very durable and will not accumulate, shrink, deteriorate, absorb moisture or attract pests, which may be insulated from others.
Why is polyester insulation so safe and how is it installed?
User-friendly safe handling and easy installation, no protection required
It is important not to compress the insulation, otherwise it will not be able to perform its rated rating
The polyester sound insulation layer can be neatly cut with a serrated knife or scissors
Unlike glass fiber insulation material so dangerous, it needs a full set of protective equipment
What is the fire resistance of insulating materials?
Our standard polyester insulation batts are not flame retardant, but we have fire resistant version which will not promote the flame. If you are still concerned about polyester insulation, please contact us.