3D Wall Coverings 200 x 200 x 30 mm
3D wall coverings are made of 6mm environmental friendly polyester board. They are widely used as decoration and sound absorption material in both public and residential projects.
Why professional designers use polyester 3D wall covering?
Polyester fiber is the raw material of 3D wall coverings. No wood fiber is required which not only helps improve indoor air quality and helps protect our natural forests.
Light weight and strong
Can be pasted onto an existing wall or frame
Green Credit: The use of this 3d wallcovering material may also contribute to the Green projects.
Strong and durable
Waterproof, mildew resistant, Non-corrosive
Cost effective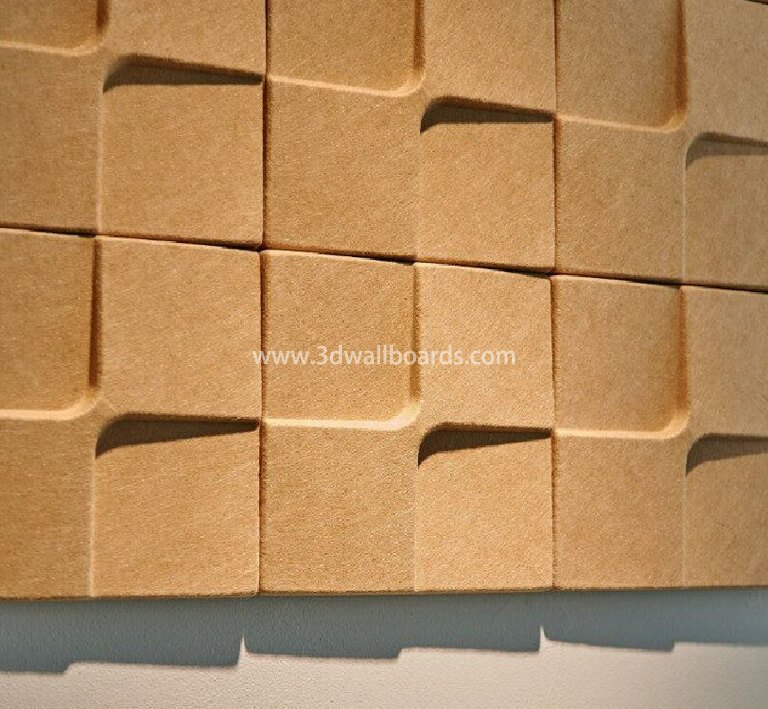 3D Wall Coverings – Specifications and Features
Standard 3D wallcoverings size is 200 x 200mm. We can customize the panel into the size you need.
3D decorative wall panels weight: average weight of 1.5kg/m2.
Material thickness: substrate thickness of 6mm. After processing, according to the design, this will change on the panel, which can be between 6mm and 18mm.
Pattern orientation and arrangement: Most designs can be ordered in either vertical or horizontal pattern orientation.
Surface treatment: Natural, no need for other treatment such as paint or laminate
Installation: The panel can be glued directly on the wall. The panel can also be fitted with wooden batten.
Custom Design: We may be able to program and make custom designs. Simply forward your .CAD format drawings to us and we will contact you to discuss the possibilities and costs.
Delivery time: The 3D wall covering panels can be produced in about 20 working days.
Service: We manufacture, but we do not install. Please contact your local installer or contractor, or we can provide contact information for people who previously installed 3D wall covering in your area.