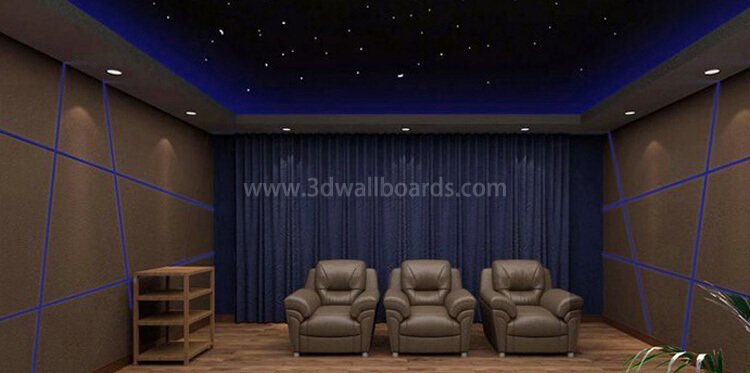 How to Choose the Right Home Theater Wall Panels
There are a lot of acoustic home theater panels on the market, which makes it difficult for people to choose home theater wall panels for home theater wall decor. How many sound-absorbing materials do you know? What's the advantages and disadvantages?
Here is some general information about home cinema wall panels for your reference.
1. Wooden Sound Absorption Material
Advantages: Wood grain finish looks natural. The wooden home cinema wall covering system has a good sound-absorbing effect. NRC can be 0.87 if with 50mm thick glass wool as under the panel.
Disadvantages: It is not recycled material. Though it's claimed ecofriendly, it still releases formaldehyde, more or less. They are quite heavy, too.
2. Glass Fiber Sound-absorbing Material
Advantages: It not only has a good sound-absorbing effect, but also has good flame retardant property.
Disadvantages: They not environmentally friendly home theater wall treatment as they do harm to human health. It could degrade into powder and float in the air, so there is the danger of being breathed by humans. It can not be used as finish panel and they need to be covered even if it's used as padding, which will increase the cost. It cause itch if you touch them.
The acoustic decorative wall tiles are widely used in public places, but it's strongly not recommended to use under home theater wall panels as people spend too much time at home.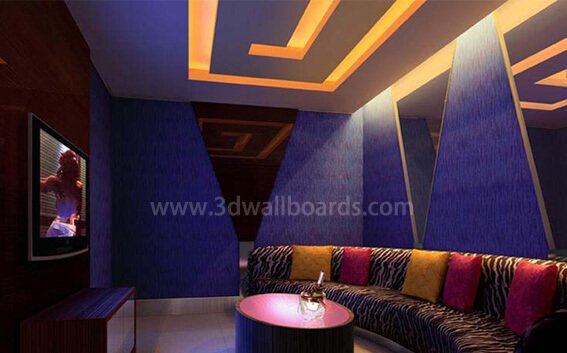 3. PET Home Theater Wall Panels
They are produced by new technology and they are a new green acoustic material in the building materials industry and furniture industry. More and more projects choose to use them as acoustic materials, not just home theater wall panels.
Advantages: Competitive price, real ecofriendly, excellent acoustic performance, easy to install.
Disadvantages: Wood grain is traditional, but they can't be wood grain. They can't be painted as paint could affect its acoustic performance.
These disadvantages are no so important compared to its huge advantages. In addition to be used as home theater wall panels, they are also popular in other applications such as theaters, recording studios, operas, conferences, radio and television, KTV, auditorium, television, business office, hotel, villa, etc.