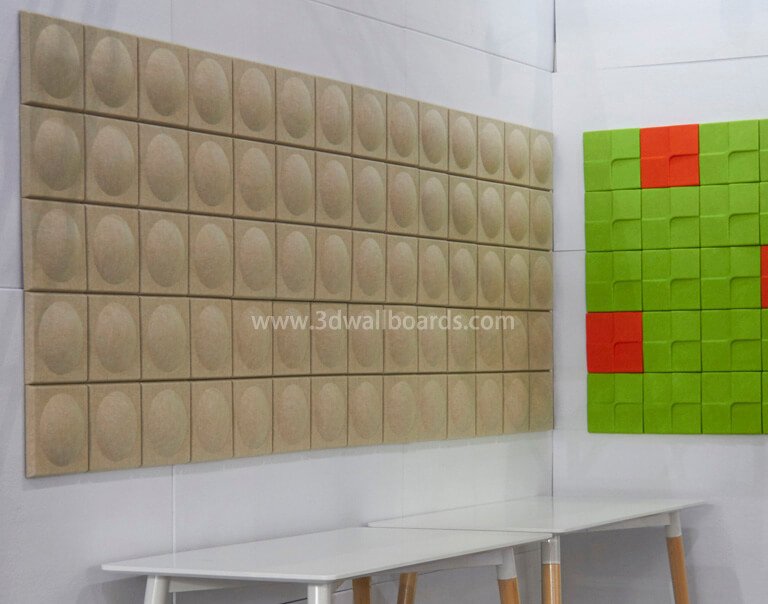 3D Wall Panels
Many people choose to use 3D wall panels because of their pleasing look. In fact, some 3 d wall panels are more than that as they can have functional properties such as acoustic performance at the time.
Nowadays noise seems to be everywhere. For instance, conference room is often more echo chamber than production space. Hard surfaces that brutally reflect every voice, turning a conference call into cacophony. So how do you solve these problems? 3D acoustic wall panels. The application of acoustical 3D wall panels includes theaters, recording studios, conference rooms, laboratory, auditorium and gymnasium, educational facilities, media room, recording studio, studios, etc.
Here are some tips on how to use sound absorption 3D wall panels.
Tip 1: Use acoustic 3D wall panels to absorb sound in open spaces
Sound-absorbing materials can be used for a variety of occasions. In the conference room, these materials can really play a magic effect, reduce the sound of space bounce, and make the sound clearer and easier to understand. To ensure that the sound of the conference room is absorbed, the walls and ceilings are the main surfaces to be solved. You do not always need floor-to-ceiling acoustic coverage to control the sound in your space. Acoustic materials can be not boring! You got acoustic 3D wall panels.
The wallboard does not have to completely cover the entire wall. Imagine there is a tennis voice constantly playing and interacting with each surface. When the sound encounters a soft surface, like an acoustic panel, these sounds are absorbed, so the smaller volume is bounced back into the room.
Tip 2: Leave some space behind acoustic 3D wall panels
Sometimes customers are looking for something simpler and brighter. Add some visual interest and sound control to your meeting room with 3d interior wall panels. Experts all know that if you do not have a large number of panels to install the desire or budget, you can create an air gap behind the panel to improve acoustic performance. Since 3d feature wall panels are not flat, they have air gap naturally.
Adding air gaps behind acoustic materials is a simple way to increase sound absorption! A larger sound absorption occurs when space is generated after the acoustic material. For customers who do not have a huge budget or who do not want to install a large number of products on a wall or ceiling, this fix is ​​a great way to ensure that the sound is captured in the conference room.
Tip # 3: Cover the critical area of ​​the wall
Due to decoration reason, you may not want to use 3D wall panels full of the room. You can choose to install 3d art wall panels only on critical areas of the wall.
Tip # 4: Do not forget the ceiling!
Ceiling can also be treated! A significant echo reduction can be achieved by suspending the cloud or baffle, or simply covering the hard surface of the ceiling with an acoustic panel. 3D wall panels can also be used as ceiling tile.
Suppliers
3d wall coverings https://www.homedepot.com/
3d ceiling tiles https://www.armstrongceilings.com/commercial/en-us/commercial-ceilings-walls/metalworks-3d-ceiling-tiles.html